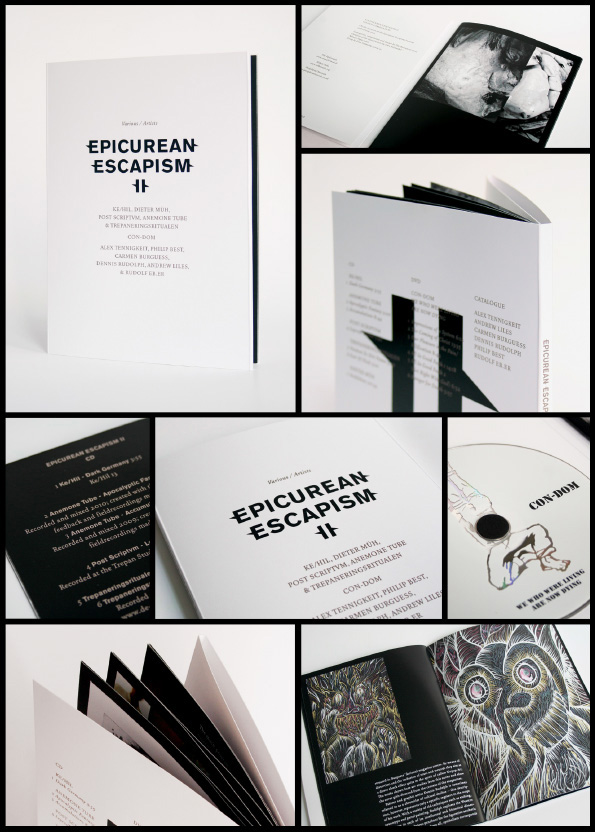 V/A Epicurean Escapism II Compilation CD + Con-Dom DVD "We Who Were Living Are Now Dying" + 20-page catalogue with essay & art works

–
Format: CD + DVD + Catalogue
Release date: 15.06.2013
Cat. no.: cure.2 | stx.29 | PR019
Label: The Epicurean (D), Silken Tofu (BE) & Peripheral Records (UK)
Ltd. edition: 350 copies, hand-numbered
Packaging: luxurious 6 panel 21 x 15 cm folder + 20-page catalogue, printed on matt image paper with dispersion varnish and packaged in a transparent, sealable bag

Conception, compilation and design: The Epicurean 2013
Curation of the visual artists & essay: Uwe Schneider/African Paper 2012/13
CD mastering: Phil Julian 2013
DVD editing & mastering: Industrial Recollections 2013

www.transformed.de
www.silkentofu.org
www.peripheralrecords.co.uk

EPICUREAN ESCAPISM II CD
Playtime: 53 minutes
1 Ke/Hil - Dark Germany 3:55
2 Anemone Tube - Apocalyptic Fantasy 3:20
3 Anemone Tube - Accumulations 8:44
4 Post Scriptvm - Leprous Driver 7:42
5 Trepaneringsritualen - Vanärat Är Ditt Namn 3:29
6 Trepaneringsritualen - End Of Flesh 5:10
7 Dieter Müh - Bethlehem 20:34
CON-DOM "WE WHO ARE LIVING ARE NOW DYING" DVD
Playtime: 55 minutes
1 Impressions of a System 6:12
2 The Coming of Christ 13:35
3 Our Pleasure in the Pain/Vilification 8:42
4 All In Good Faith 1 14:18
5 All In Good Faith 2 (Get Right With God) 6:52
6 Hunger for Death 5:57
CATALOGUE
20 page catalogue with essay and art works by
ALEX TENNIGKEIT
ANDREW LILES
CARMEN BURGUESS
DENNIS RUDOLPH
PHILIP BEST
RUDOLF EB.ER

_
REVIEWS

"Epicurean Escapism II forms the multi-media companion release to the festival of the same name (held in Berlin on 15th June, 2013).  Noting this is the second festival release, when reflecting on the cassette/ DVD/ special packaging of the first compilation, this time around the format has been stepped up a notch to more comprehensively reflect the multi-media format of the festival.  Here the release incorporates elements of all artistic aspects including: reproductions of a selection of exhibited artworks, a CD of material contributed by performing acts and a DVD that reproduces the screened short experimental films.  These audio and visual elements have then been housed in an impeccably designed DVD sized fold out cardboard cover, highlighting that there have been no half measures here when approaching this release.

To address the musical content first and noting the musical heritage of Ke/Hil, their heavily ominous and coldly nihilistic track is a great way to open the CD.  'Dark Germany' amounts to an expertly crafted and dense layered composition of slow throbbing synths, swirling noise and distortion frayed vocals.  Anemone Tube follow and deliver a pair a solid tracks ('Apocalyptic Fantasy' and 'Accumulations'), which both adhere a general pattern of invasive cyclic noise, looped metallic clattered, managed/ barely recognisable field recordings and understated melancholic droning synth elements.  Each of these tracks (again) displays the particular sound attributable to Anemone Tube, which as I have said before is testament to the mastery of his sonic craft.  Moving on to 'Leprous Driver', Post Scriptum evoke more filmic composition imbedded with an atmosphere brooding menace, here consisting of a slab of crystalline dark ambience (aka droning syths, spares piano notes, and unobtrusively layered background tones/ noise).  Following next is the mighty Trepaneringsritualen, who contribute two tracks on the shorter side (3 to 5 minutes each). 'Vanärat Är Ditt Namn' takes to a rhythmic song based approach of a repetitive throbbing beat and yelled verse/ chorus/ verse type vocals, while 'End of Flesh' opts for slow ritual ambience, where a catatonic bass throb provides some sense of structure amongst the layers of swirling vocal invocations.  To round out the compilation Dieter Müh issues forth the hefty 20 minute composition 'Bethlehem', which is a highlight amongst highlights.  Here the track commences with a beautifully understated modern classical tone, with distant melancholic piano and abstract vocal sample cut ups.  However this fragile segment ultimately acts as the intro passage for the main bulk of the tracks which features a mid paced, tribally infused dark ambience, which in some ways reminds of the early works of Morthound.  To provide a final comment on the compilation, to my mind if the curation of such releases is not managed correctly they can either become frustratingly long due to the number of contributions and/ or suffer from submission of poor or second rate material.  Thankfully no such complaints exist here, as with a (mere) seven excellent tracks by five artists, it is an easily digestible and most importantly an engaging and enjoyable listen throughout.

For the DVD segment of this release, this consists of six short films by Mike Dando of Con-Dom, issued under the collective title 'We Who Were Living Are Now Dying'.  Whilst not constituting new material from Con-Dom, the DVD sees the formal publication of six archival experimental films that Con-Dom produced between 1983 to 1994.  Here these short films effectively act as the visual counterpart to a number of Con-Dom's heavy and harsh power electronics tracks, and whilst relatively crude and experimental in style, they consist of filmed footage and still images which are cut together as a sprawling visual collage.  Conceptually there are a range of themes at play including: belief, religion, sin, spirituality, suffering, religious ecstasy, pornography, masturbation, sexual ecstasy, medical deformities, birth, death, race, racial hatred, family, honour, authority, war atrocities, crime etc.  With its cut up collage technique the multiple utilised themes are presented for the viewer to analyse and pick apart in trying to stitch together the conceptual threads on display.   Visually the films are quite dark and textured and which suits the material well, while there is also a faint black line flicker moving through the visuals.  This later aspect could be due to the material being filmed on video, or otherwise as a result of the transfer to digital format from super 8 film – but either way this effect adds to the lo-fi grainy aesthetic of the films.  As with Con-Dom's more recognised musical outputs, there is always a clear message at the core of Mike's work even if it gets somewhat muddied by the brute force approach.  As such it is great to see that a similar approach is embodied within Con-Dom's experimental films, where it will take time to analyse presented content.

For the last part of this release it has sought to in part document the group art exhibition displayed as part of the festival (which incidentally was curated by African Paper Magazine).  Contributing artists whose artworks were featured from Alex Tenningkeit, Andrew Liles, Carmen Burguess, Dennis Rudolph and Phillip Best, Rudolf Eb.er, and whilst each artist's outputs vary wildly in materials, style and aesthetic output they do generally hinge on a darker and/ or subversive tangents.  Here a selection of the artists works are published in a 16 page full colour booklet, along with an essay by Uwe Schneider which outlines the concept of the festival and compilation and neatly ties together the various artist's inputs.

Although in the first instance this release is a memento of the festival is seeks to document, with its meticulous execution and sheer quality of its content, Epicurean Escapism II transcends this mere documentary role, to become an exceptionally focused multi-media release.  Definitely worthy of detailed investigation and limited to a mere 350 copies."

(Noise Receptor, July 2013)

_
"They say evolution takes centuries and that is why it was truly inspiring to see how, in barely an year that the Berlin-based festival Epicurean Escapism has reached a point, which other similar initiatives wouldn't achieve in decades. Last year, when I received the first compilation commemorating the debut edition of the Epicurean Escapism festival (curated by Stefan Hanser, known for his work as Anemone Tube) I wasn't entirely expecting what this initiative has become today. I experienced the release more like a simple compilation aimed at promoting and reminding people about this event. Now as the second event is already history, I'm looking at the sequel to the modestly packaged tape and DVD that I received, and reviewed a year ago and I can not describe it by anything but the words – an immense leap forward.
Epicurean Escapism II is a unique release with packaging reminiscent of Anemone Tube's Dream Landscape . It consists of a CD compilation with exclusive music by Ke/Hil, Anemone Tube, Post Scriptvm, Trepaneringsritualen and Dieter Müh. During the festival there was a screening with the short films of Mike Dando (Con-Dom) from the 80s and early 90s, all of them digitally restored and available here on the DVD. And as if this isn't enough we are also handed a 20-page booklet with an essay and artworks by Alex Tennigkeit, Andrew Liles, Carmen Burguess, Dennis Rudolph, Philip Best & Rudolf Eb.Er. So I guess we shall just take a look at everything I listed.
On the Epicurean Escapism II CD, first we are introduced to Ke/Hil and his short power electronics outburst 'Dark Germany'. A thick abrasive ambience, cut by sporadic and distorted vocals, a piece that's exactly like a statement 'we're not safe here'. Following is Anemone Tube with two pieces, both carrying his signature sound while imposing that sadistically pleasant feeling as if you are being force-fed with rusting metal, while pushed to the floor by heavy, multi-layered, mesmerizing noise. After this (double) harsh sonic treatment Anemone Tube leaves you in the hands of Post Scriptvm, who at first are deceivingly calm and quiet, which is slowly seducing you into their  audio realm of eternal cold and emptiness.
All of this only to be again shattered, this time by Trepaneringsritualen. The project, which has been getting more and more recognition lately, and quite deserved in my humble opinion, is here presented by two tracks, both of them extreme, harsh and really dirty, with an old-school industrial flavor, abnormal vocals, and all of this forming a super intense and weird atmosphere. The last piece on the CD is actually the total highlight. With more than 20 years history in this scene Stephen Cammack's Dieter Müh closes the compilation with the blackest sound monolith I have heard this year. Bethlehem is over 20 minutes long, it's morphing from minimalist drone and dark ambient, through desolate industrial soundscapes to noise dominated and lead by heavy ritual drumming. With a lot of subtle details, such as acoustic sounds, lo-fi sampling, fragile, but piercing melodies and voice, Stephen and his collaborators have built an impressive, complex and still extremely musical piece for which we should praise Stefan Hanser, for being able to convince Dieter Müh to dig it out of their archives.
The visual side of Epicurean Escapism II again shows a huge progress. The six Con-Dom movies here are almost my age and it's insane how effective and current they still are. Mostly based on video collages of static visuals, found video material Mike Dando's work is an absolutely mind-blowing mixture of lasting impressions. Resulting in a strong and critical socio-political statement, especially relevant to our times. Another feature is that all six movies are voiced by Con-Dom's very own power electronics sounds. This DVD is not only a precious possession for all Con-Dom aficionados, but a documentary of our reality through the eyes of an artist, and through the eyes of time. As to the artists and paintings included in the catalogue, at first I was a bit puzzled for they were all quite different from each other and I couldn't trace a concept or a reason for putting exactly those names in the same place/event. However it's clear that not always a concept should be present in order to just appreciate the works of familiar or unknown authors, especially when they are all good, dedicated and convincing enough with what they're doing.
To sum things a bit, Epicurean Escapism II CD/DVD is not only a must-have, but a perfect example how art forms should exist nowadays – in an absolute symbiosis. As the festival is already one of the most meaningful events in (post) industrial so what is left for us is to hope Stefan Hanser will continue to find the sufficient strength and support to keep this oasis for escapists existing for a long time into the future."

(Heathen Harvest, August 2013)

_
"It's highly recommended to go the website of this release, or perhaps of the festival behind it, and read all about the use of the word escapism, which is the main guiding theme of this festival and hence of this release. I wouldn't think that easily of the confrontational music and images provided by paintings and collages by Philip Best, Andrew Liles, Rudolf Eb.er, Alex Tennigkeit, Carmen Burguess and Dennis Rudolph as printed in the festival catalogue and on display at the festival. Same can be said for the films on the DVD in this package by Con-Dom. I must admit I never knew he did films, but it's been a while since I saw a concert by him. Much of the footage is 'found footage', sometimes static images, but most of the time moving images of crowds, preachers, salvation armies, the ugliness of society as perceived by Con-Dom. All of these six films come with their original soundtrack, of which I recognized the older pieces 'The Coming Of Christ' (inc masturbation scenes???), 'Vilification' and 'All In Good Faith'. It's hard to believe that all of this is close 25 years old, but still sounds like I heard it yesterday for the last time. Dando's shouting voice, the layered synth noise, the abuse of preacher tapes and gregorian chants. It's funny (?) to see that this has grown in a consistent musical field, but perhaps without much development. Fine power electronics and no doubt the many Con Dom fans will be pleased with a DVD documenting this work (providing it is a real DVD and not a DVD-R as I found it in this package). The CD compilation that is also part of this, has seven pieces by five bands, of which the two by Anemone Tube and the one by Ke/hil are in that same power electronics tradition as Con-Dom. Post Scriptum belongs to the dark edges of industrial music with a dark ambient piece. Trepaneringsritualen are also more retro sounding and allow vocals to be part of their noise. Dieter Müh seems to me (but what I do know about all of this) the only band here from the past, which a history that dates back 20-25 years, which perhaps allowed him to provide the longest track here, twenty minutes in total. This is also the piece that moves away most from standard industrial, dark ambience and power electronics, and something more… musical? With tribal sampled drums, shimmering melodies, and more low resolution samples and electronics. Perhaps a bit long, but this might certainly be seen as an escape route for the rest - if you need one. I wouldn't immediately head to Berlin to witness this escapism - had I known this last month - but it's good to see an updated status of the current movements of power electronics."

(Vital Weekly, FdW, July 2013)

_
"Keineswegs ist der Sampler zum unlängst besprochenen "Epicurean Escapism II"-Festival etwa nur eine schnöde Compilation-CD, oh nein: Auch auf Produktebene hat man sich alle Mühe gegeben, einen medialen Rundumschlag auf höchstem Niveau zu realisieren, und so gibt es zum schlappen Preis von 20 Euro einen schicken 6-Panel-Folder mit CD, DVD und einem 20-seitigen, hochwertig gedruckten Katalog, in dem sämtliche an der Veranstaltung beteiligten Künstler vorgestellt werden. Dies erscheint insbesondere vor dem Hintergrund sinnvoll, dass manches tatsächlich erst in der Ruhe des heimischen Wohnzimmers im gebührenden Umfang gewürdigt werden kann – ganz besonders gilt dies für die visuellen Beiträge. Konsequenterweise handelt der Katalog den akustischen Teil auch vergleichsweise kurz in Gestalt eines einzigen Absatzes ab, der direkt an jenen Essay zum Eskapismusbegriff anschließt, der in der Festivalreview bereits Erwähnung fand und den Grund dafür abgibt, dass wir uns an dieser Stelle nicht mehr mit der Philosophie des Eskapismus befassen brauchen, sondern direkt auf den Inhalt einschwenken können.
Den größten Raum des Booklets nehmen die Bilder der teilnehmenden "visual artists" nebst kurzer, ins Werk einführender Kommentare ein; diese stammen, wie der restliche Text auch, aus der Feder von UWE SCHNEIDER, Chefredakteur des Online-Magazins "African Paper" und Kurator des Ausstellungssegments von "Epicurean Escapism". Von jedem Künstler wurden zwei bis drei Bilder in den Katalog aufgenommen, was dem interessierten Rezipienten die, auf dem Festival selbst aus naheliegenden Gründen nicht gegebene Möglichkeit eröffnet, sie ganz ohne Ablenkung auf sich wirken zu lassen. Für den, der im Anschluss an die Lektüre Lust auf noch eingehendere Beschäftigung verspürt, finden sich Links zu den Internetauftritten aller Beteiligten. Und dass dies mitunter die eine oder andere, zusätzlich erhellende Minute zu bescheren vermag, kann der Rezensent aus eigener Erfahrung bestätigen – so weiß er bspw. mit PHILIP BESTs Fotocollagen mittlerweile deutlich mehr anzufangen als noch am Abend der Veranstaltung. Lediglich die Kunst des RUDOLF EB.ER bleibt selbst konzentriertesten Annäherungsbemühungen unzugänglich und verharrt weiter in ihrer hermetischen Verschlossenheit – aber wer weiß, vielleicht fällt auch da noch der Groschen …
Unter dem – "The Waste Land" von T. S. ELIOT entlehnten – Titel "We Who Were Living Are Now Dying" bestreitet MIKE DANDO alias CON-DOM mit seinen, in den 80er und frühen 90er-Jahren entstandenen Super-8-Filmen die DVD in ihrer vollen Länge. Zusätzlich zum bereits auf dem Festival gezeigten Programm wurde das DVD-Menü um die Titel "All In Good Faith 2 (Get Right With God)" und "Hunger for Death" erweitert. DANDO und sein künstlerisches Schaffen werden im Booklet mit einigen Sätzen eingeführt, doch ist der Raum freilich zu beschränkt, um mehr ausrichten zu können, als an der Oberfläche zu kratzen. Nichtsdestoweniger mag demjenigen, dem CON-DOM bislang nur oberflächlich ein Begriff war, der Zugang gegenüber dem einigermaßen ruppigen Bildmaterial, das während der nun folgenden 55 Minuten auf ihn einprasselt, dadurch etwas erleichtert werden. Eine der zentralen Strategien von DANDOs Arbeit besteht im sensorischen und informellen Overload seines Publikums, und das wird angesichts der sechs präsentierten Kurzfilme ebenso augen- wie ohrenfällig. Der motivische Fundus, aus dem DANDO schöpft, wird durch die Programmatik bestimmt, die seiner Arbeit seit mittlerweile drei Jahrzehnten unterliegt; und die charakterisiert man in der gebotenen Kürze wohl am angemessensten als ebenso existenzielle wie konsequente Auslotung kollektiver wie individueller Abgründe im Spannungsfeld von Religion, Macht bzw. Gewalt und Sexualität.
Jeder der sechs Filme folgt einer bestimmten thematischen Ausrichtung, die sich bereits im Titel relativ unmissverständlich andeutet, ohne dass sie sich im weiteren Verlauf zu einem Handlungsansatz im engeren Sinne verdichtete. Das visuelle Material setzt sich zum Großteil aus mal mehr, mal weniger hoch getakteten Aneinanderreihungen von Zeitungsausschnitten, Buchpassagen und Fotos zusammen – vom Jesuskindlein in der Krippe über mannigfaltig missgestaltete Säuglinge bis hin zu Schnappschüssen aus dem KuKluxKlan-Poesiealbum ist alles und noch mehr dabei –, die immer wieder von Filmaufnahmen durchbrochen werden – auch hier werden von Weihnachtsmarktimpressionen bis zum POV-Beinahe-Cumshot alle Wünsche bedient. Meine ganz persönlichen Lieblingssequenzen stammen übrigens aus den beiden "All In Good Faith"-Clips und nehmen einen, auf den ersten Blick eher unspektakulär scheinenden, aufgedreht herumhüpfenden und -gestikulierenden, farbigen Straßenprediger im gelben Mäntelchen mit Pelzhut auf dem Kopf ins Visier. Dessen nachgerade hypnotischer Wirkung wird man allerdings erst gewahr, wenn man sich ihr über einen etwas längeren Zeitraum hin aussetzt. So eröffnet die DVD demjenigen, der sich konzentriert darauf einlässt, trotz oder gerade wegen des schieren akustischen und visuellen Furors, den sie entfesselt, einige fast schon meditative Momente.
Kongenial wurde das Ganze mit den entsprechenden CON-DOM-Tracks unterlegt und ergibt so in der Summe nicht weniger als eine knappe Stunde hochgradig faszinierenden Entertainments der etwas spezielleren Art. Der Rezensent empfiehlt übrigens die unmittelbare Direktkonfrontation: mit Kopfhörern auf den Ohren im zappendusteren Raum frontal vor dem Bildschirm sitzend – das wird der Intention des Materials mutmaßlich am gerechtesten und steigert die Wirkung enorm. Im Gegensatz zur öffentlichen Vorführung, bei der die Konzentration durch unvermeidliche Begleitumstände immer wieder beeinträchtigt wird, vermag sich so ein Höchstmaß an Intensität auf visueller und auditiver Ebene zu entfalten. Dass die Lautstärkeregler währenddessen nach Möglichkeit weit im oberen Bereich liegen sollten, versteht sich wohl von selbst. Ach ja: DANDOs Filme hinsichtlich der verwendeten Motive, Fotoschnipsel, Textausschnitte, Samples etc. zu analysieren, würde den Rahmen dieser Besprechung um ein Vielfaches sprengen, deshalb sei der geschätzte Leser hiermit zur fröhlichen, kulturhistorischen Schnitzeljagd animiert: Es gibt 'ne Menge zu entdecken – viel Spaß dabei!
Womit wir auf die Compilation-CD überschwenken wollen, zu der jedes der fünf, am Festival teilnehmenden Projekte einen oder zwei exklusive Tracks beigesteuert hat.
Den Anfang machen KE/HIL mit dem düster-rumpeligen "Dark Germany", das nach mehrmaligem Hören geradezu Ohrwurmqualitäten entwickelt, obwohl es im ersten Moment recht unspektakulär tönt. Vom Tempo her eher bedächtig, wird durch die druckvoll vorgetragenen, typisch verzerrten, imperativischen Vocals dennoch eine beachtliche Spannung generiert, die von Hördurchgang zu Hördurchgang mehr fesselt und das Stück mit seinen knapp vier Minuten zu einem kurzen, aber kraftvollen Opener macht.
Weiter geht es mit zwei Beiträgen von ANEMONE TUBE, dem langjährigen musikalischen Outfit von Festivalinitiator und THE EPICUREAN-Labelbetreiber STEFAN HANSER. Diese schlagen in eine ähnliche Kerbe wie schon die beiden Tracks auf der ANEMONE TUBE/DISSECTING TABLE-Split-LP und können thematisch wie formal im Dunstkreis der "Suicide Series" verortet werden, insofern auf dieselben, von HANSER in Japan und China aufgezeichneten Fieldrecordings zurückgegriffen wird, wie bereits auf "Death Over China" und "Dream Landscape", den beiden "offiziellen" Teilen des (geplanten) Zyklus. Das erste Stück, "Apocalyptic Fantasy", beginnt mit infernalischem Feedbackgekreische, in das sich peu à peu ein dumpfer, atmosphärischer Drone schiebt; während sich die Feedback-Schleifen vervielfältigen, schält sich aus dem Inferno so etwas wie eine rudimentäre Melodie, die die Einzelelemente ungeachtet ihrer eigenen Fragilität umfasst und in einen ganz & gar großartigen, dem Titel in vollem Umfang gerecht werdenden Breitwand-Abgesang kulminieren lässt. Nach einem derart fulminanten Einstieg kann es naturgemäß nur seichter werden und so überzeugt "Accumulation", der zweite, noch hörbarer auf Fieldrecordings aufbauende Track in seiner irgendwie unentschlossenen Zerfaserung insgesamt weniger – wohlgemerkt ohne deshalb schlecht zu sein: Man vermisst jedoch das zwingende Moment, das "Apocalypse Fantasy" im unmittelbaren Vergleich so außergewöhnlich fesselnd macht.
POST SCRIPTVM sind qua "Leprous Driver" mit einem vergleichsweise kontemplativen Dark Ambient-Track vertreten, der mich in Teilen an ältere Projekte mit dezidierter Space-Affinität wie ARECIBO oder S.E.T.I. erinnert. Es dröhnt und schnurrt behäbig vor sich hin, später kommen auch noch Stimmen dazu, alle möglichen Sounds werden angedeutet, ohne dass einer davon der Kohärenz stiftenden Dominanz des Basisdrones gefährlich würde. Insgesamt durchaus ein interessanter Beitrag – in seiner lichtabgewandten, experimentellen Spielfreude läuft er mit voranschreitender Laufzeit jedoch Gefahr, sich im Beliebigen zu verlieren.
TREPANERINGSRITUALEN bedient sich in "Vanärat Är Ditt Namn" einmal mehr eines ebenso primitiven wie mit jeder Wiederholung hypnotischer wirkenden Beats, der zusammen mit THOMAS EKLUNDs typischem, krächzig-gurgelndem Schreigesang und einigen, relativ spärlichen Hintergrundsounds ein weiteres, überaus erfreuliches Beispiel für den neuen, tanzflächentauglichen Stil des Projektes abgibt. Dass diese Entwicklung keinen exklusiven, sondern lediglich ergänzenden Charakter hat, stellt der zweite Track, "End Of Flesh", klar: bei dem nämlich handelt es sich wieder um ein Ritual-Industrial-Stück reinsten Oldschool-Wassers. Man fühlt sich spontan an alte NEKROPHILE-Tapes von LAShTAL, KORPSES KATATONIK oder ZERO KAMA erinnert, auch frühe Ritual Soundscapes von SLEEP CHAMBER taugen zum Vergleich. Aufgrund des deutlich höheren "Wumms"-Faktors weist freilich das erste Stück auch das entsprechende, deutlich höhere "Hitpotential" auf.
Zu guter letzt schließt der, während des eigentlichen Festivals vom Rezensenten eher ungeliebte DIETER MÜH den bunten Reigen mit dem 20-Minüter "Bethlehem" ab. Der entpuppt sich als Dark Ambient-Stück mit mittelschwerem Tribal-Einschlag, was wohl primär auf die Percussionelemente zurückzuführen ist, die mich an einschlägige Genre-Epigonen wie STEVE ROACH oder PAUL SCHÜTZE denken lassen. Verschiedenste Naturgeräusche kommen zum Einsatz und insbesondere zu Anfang des Tracks hat man den wohlmeinenden Eindruck, hier werde eine komplexe Geschichte erzählt, die sich entsprechend langsam entfalten müsse. Das ist zwar zweifelsohne richtig und der einzig angemessene Ansatz, ändert jedoch nichts daran, dass "Bethlehem" auf die Dauer schlicht & einfach ein wenig langatmig wird – hier wären entschlossene fünf Minuten weniger entschieden mehr gewesen. Dessen ungeachtet alles in allem kein schlechter oder enttäuschender Beitrag: Viele, interessant zusammengestellte Sounds konstituieren zusammen eine facettenreiche musikalische Collage, die lediglich in puncto Laufzeit ein wenig überambitioniert ist. Im Übrigen sieht der Rezensent seinen ursprünglichen Eindruck bestätigt, DIETER MÜH sei primär eine Angelegenheit für den heimischen Ohrensessel, könne dortselbst jedoch einer eingehenderen Beschäftigung für wert befunden werden.
Summa summarum wird mit "Epicurean Escapism II" der gleichnamigen Live-Veranstaltung ein in Form, Inhalt und Ausführung ebenbürtiges, nicht minder außergewöhnliches Medien-Bundle an die Seite gestellt, das überdies durch ein beeindruckendes Preis-Leitungsverhältnis punktet: Wo, bitteschön, bekommt man heute noch für 20 läppische Euro eine solche Breitseite an hochwertig produziertem, musikalisch-visuellem Material um Augen & Ohren gehauen? – Diese, selbstverständlich rein rhetorische, Frage möge den Schluss der Betrachtung markieren. Ich wüsste beim besten Willen auch keine Antwort darauf."

(Nonpop, July 2013)