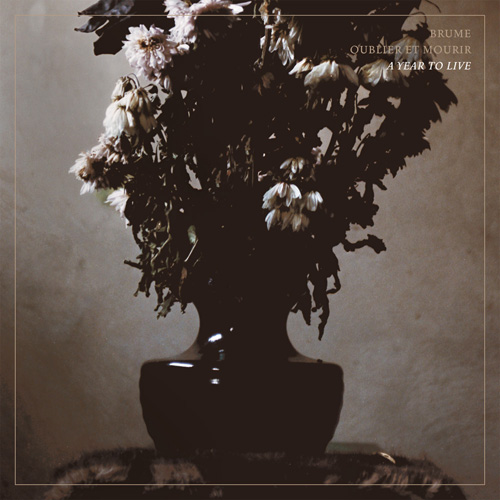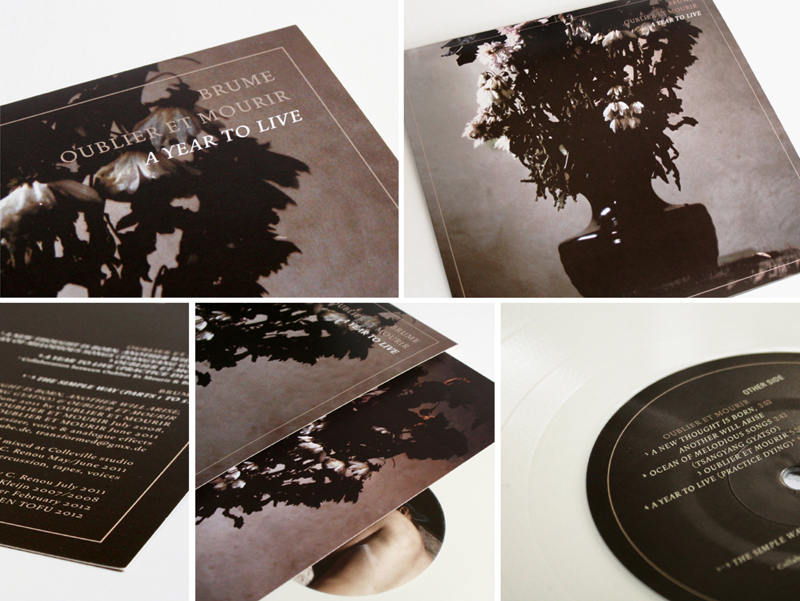 –
Format: 12" LP
Label: Silken Tofu (Belgium)
Catalog number: stx.24
Release date: End of April 2012
Playtime: 38 min
Packaging: 4-colored print on high quality 320g paper, white 140g vynil, 193 x 297 cm postcard.
Limited edition: 333 copies
Normal edition: 300 copies 12" LP
Special edition: 33 copies including a 10" LP (Dubplate cut) with 1 new & unreleased track by each project + original nepalese prayer flags packaged in a cardboard box
Mastering: C. Renou July 2011
Photography: "Raw Bouquet" and "Back Door" by Babette Kleijn 2007/2008
Graphic Design: by S. Hanser February 2012
Manufacturing: Made in Germany
Carved by hand on the inside of the LP on both sides:
Side A: I find hope in the darkest of days, and focus in the brightest ...
Side B: ... I do not judge the universe. (Dalai Lama)



Promo teaser video

www.silkentofu.org

www.elsieandjack.com/brume

Side A
OUBLIER ET MOURIR
1 A New Thought Is Born, Another Will Arise
2 Ocean Of Melodious Songs (Tsangyang Gyatso)
3 Oublier Et Mourir
4 A Year To Live (Practice Dying)*
* Collaboration between Oublier Et Mourir & Brume
Side B
BRUME
1–5 The Simple Way (Parts 1 To 5)

"A New Thought Is Born, Another Will Arise", "Ocean Of Melodious Songs (Tsangyang
Gyatso)" & "Oublier Et Mourir" recorded January & August 2008 and mixed May/June 2011 by OUBLIER ET MOURIR.
"A Year To Live (Practice Dying)" recorded by OUBLIER ET MOURIR July 2008, deconstruc-ted & recorded by BRUME July 2010, final mix by OUBLIER ET MOURIR June 2011
OUBLIER ET MOURIR / S. Hanser:
synthesizer, voice & analogue effects
"The Simple Way (Parts 1 To 5)" compiled,
recorded and mixed at Colleville studio by BRUME / C. Renou May/June 2011
BRUME / C. Renou: electronics, alto sax, tuba, percussion, tapes, voices
_
PRESS TEXT

'A Year To Live' is the 2nd collaboration between the German dark ambient/noise sound artist ANEMONE TUBE (OUBLIER ET MOURIR) and the French sound experimentalist CHRISTIAN RENOU (BRUME). 'A Year To Live' ties in with the highly acclaimed 'Transference' collaboration CD (released by Auf Abwegen, 2003), which radiated a subtle (dis)quieting melancholy, but goes beyond it.
'A Year To Live' refers to the same-titled book by Stephen Levine, which deals about preparing for or 'practicing' death to remind oneself of the beauty of life. On his deathbed, Socrates exhorted his followers to practice dying as the highest form of wisdom. Levine teaches us to live each moment mindfully and created the so-called 'year to live', a program of intensely practical strategies and powerful guided meditations, which helps us to live our lives with more awareness before we die. Both artists approach this theme with notably different points of view, but complement one another's vision, in such a precise and dedicated manner, that one can truly not exist without the other.
BRUME is the experimental music project by CHRISTIAN RENOU, a particularly prolific sound artist, active since 1985. With recordings on Elsie And Jack, Drone, Old Europa Café, Relapse, Staalplaat and his own Brume Rec., Christian Renou has built quite a name for himself over the years and can be considered a legend in the field. On 'A Year To Live' BRUME creates environments ranging from the completely abstract to the vaguely specific, using elements such as voice, loops, wide-ranging drones, ghostly ambiences, noise, various electronics and even percussions. The loops and voice samples roam throughout the track list like persistent ghosts wandering in a transcendental, shapeless purgatory, reciting their obsessions like a mantra.
www.elsieandjack.com/brume
ANEMONE TUBE has aroused much attention with his two consecutive releases 'Dream Landscape' (2010) and 'Death over China' (2011), which embody hell's darkest nightmares to give a good, hard glimpse of Death's reign over matter and human existence. Now a new form of expression is born and in a sense it is the cathartic aftermath of the unbearable pain caused by the previous realisations. Such an expression required a different vehicle, which is OUBLIER ET MOURIR ('to forget and to die'). A name perfectly suited to the peaceful, meditative, but also deeply emotional and atmospheric character of the music, which is a unique mix of melancholic ambient soundscapes & melodramatic pop sometimes reminding of TOR LUNDVALL, ARCANA and (early) SYLVAIN CHAUVEAU.
www.anemonetube.de
_
REVIEWS

"In this release we can see two artists with notably different points of view complement one another's vision, in such a precise and dedicated manner that one can truly not exist without the other. (...) OUBLIER ET MOURIR (new side project of ANEMONE TUBE) is harmonious, serene atmospheric ambient with ethereal and organic passages. In this side of the record the tragedy and the miracle of life are equally expressed, asserting that one cannot exist without the other. We are reminded of the emotion that overcomes us, when we are witnessing beauty of the sublimest kind – admiration and awe, mixed with sadness. As soon as something is born, its death becomes inevitable. That sort of realisation can only be awakened in the truest forms of art, and that is what we are faced with here. BRUME is more cerebral, comprised of structured rhythms and abstract experimentation. Tempered with a distinct minimalism, it has more to do with the comprehension and acceptance of existence, as well as the struggle to achieve that comprehension. The wheel of Samsara is ever set in motion, and finding our place in it can be a painful procedure."

"BRUME creates environments ranging from the completely abstract to the vaguely specific, using elements such as voice samples, loops, wide-ranging drones, ghostly ambiences, noise, various electronics and even percussions. (...) The loops and voice samples roam throughout the track list like persistent ghosts wandering in a transcendental, shapeless purgatory, reciting their obsessions as a you would recite a mantra."

(Santa Sangre Magazine, VITRIOL, 2012)

_
"The soft melancholy evoked by OUBLIER ET MOURIR, which is emphasised by 'The Wind from Nowhere' (J.G. Ballard), generates an interplay between the consciousness of the (own) impermanence and feeling save within the sounds. (...) seagulls seem to screech, waves are hissing, the Lama lets the prayer bells chime, and also here repetitive patterns are used to create a meditative, trance-like atmosphere, with a similar mood as TOR LUNDVALL. This is indeed an all-embracing listening/listener`s experience in the truest sense of the word."

"Two artists, two approaches and at the same time so many ideas, that the year, the title refers to, is easily filled."

(African Paper, M.G., 2012)

_
"Practitioners of Zen often advise to 'die before you die'. This is the Memento Mori, the contemplation of Death and the Afterlife; it has been known to spur people into enlightenment. The pair of Oublier Et Mourir, the sparse ambient side project of Anenome Tube, and Christian Renou, appearing here as Brume, have taken up the contemplation of finality in two very distinct and interesting ways.
Oublier Et Mourir's side best sonically encapsulates the sharp lithographed artword on the cover of a decaying bouquet. OetM's four tracks sound like a tortured composer, brooding in his mahogany study. Its like the medieval fantasies of John Paul Jones in The Song Remains The Same, if the warlock were reflecting upon memory, oblivion, the cosmos and the devil all at once. 'Ocean of Melodious Songs (Tsangyang Gyatso)' is the stand-out track here, which brings to mind the cosmic reminiscences of Klaus Schulze solo output in the '70s. It stands out like a rainbow against the ink-black dark ambiance, bringing some classic Terry Riley minimalism to the proceedings, and making this record ever-so-much-more interesting than the stereotypical dark ambient record you might expect from the subject matter at hand. There's black wind to be had, for sure, 'A New Thought Is Born, Another Will Arise' and the eponymous track (Oublier Et Mourir means 'to forget and to die') conjure vast digital caverns, that make it seem as if yr floating in eternity, back to the crystaline womb from whence we originated. Its colorful imagery, and lovingly executed; OetM's sound design stands out, with all the pieces hanging in suspended perfection. He stands at the edge of oblivion, unblinking, and notates it all to see. Oublier Et Mourir then acts as a psychopomp to the living, describing the afterlife and all its strange angels with a rich, complex tonal pallet that is more Bach than Bastard Noise. If only every member of the underground had this dedication towards their craft!
Brume's side is a way more eclectic affair. Christian Renou seemed to focus more on the 'First Thought/Best Thought' school of Buddhism, bringing in a track called 'The Simple Way' in 5 parts that bring to mind the pop surrealism of Jim 'Foetus' Thirlwell and Stephen 'Nurse With Wound' Stapleton. Renou's been making music since 1975, and got his start with a 9-piece big band called Uria, and you can hear echoes of that in the disjointed jazz of 'pt. 2', all stark rhythms and tuba blatts that could be a remix of the 'Panic At Year Zero' soundtrack, before surprisingly breaking into an unexpected funky machine bass backed by what sounds like a pressure hose and vocal snippets. 'The Simple Way' has a dream logic all its own, it takes you for a ride, making a series of unlikely connections and correspondences utterly distinctive and alien. Renou's activity in the DIY industrial/noise/electroacoustic cassette world (over 120 releases) have made him a prankster and an experimentalist and an individual, and i, for one, feel like the electronic underground really benefits from this presence. The segues can be abrupt and bizarre, and you truly don't know what's coming, but it gets surprisingly soothing, especially after multiple listens. Both sides of this record create new sonic pathways in the brain, allowing the listener to think fresh about the way they make and hear music, which is probably the ultimate living testament to the assignment.
It takes a rare breed to stare into the void and risk that inevitable return scrutiny, and the downside of this is that most who investigate bleakness and blackness already have an inky pallette, and we, as record listeners, are subjected to millions of hours of vacuous cosmic wind dark-ambient records. It is a rare and precious combination, to have talented and adept composers and sound artists looking into the subtle hues and strata of living and dying; reflecting upon memory, thought, passions. 'A Year To Live' is a valuable addition to any late-night listening library, or for anyone who's burned a hole in their Lustmord or Black Tape For A Blue Girl records, and are looking for a different kind of melancholy."

(Chain DLK, December 2012)

_
"Whenever two artists combine for an album, I usually expect good things from them. I mean, after all, you have two separate artists of different talents complimenting one another on the same album. And I have recently stumbled upon an album split by two artists that is pretty damned good, and that would be the one I shall be talking to you about today.
A Year To Live is the split album I was just mentioning being under the control of Brume (From France} and Oublier Et Mourir (From Germany). Brume, the solo project of Christian Renou, has been around since 1985, which is a damn long time to be committed to working with the same sounds. There was a break in his musical career from '00 to '07, but he was back to where he started soon after. Then we come to Oublier Et Mourir, which is the side project of Anemone Tube, used for less harsh sounds and more dark ambient sounds. And these two artists came together and decided to work with one another.
Now, the first four songs on this album belong to the German, and each one is a very quelling. They are all dark ambient songs, but each one is deeply enriched with moving sounds and noises that makes you fall right into them. I absolutely adored Ocean of Melodious Songs (Tsangyang Gyatso). It differed from the other pieces by offering both piano work and then electronic flutters of music. It's a soothing treat to listen to, and is awesome.
Now, on Brume's half, the quality dips a bit. Each song transitions into the next, and is split into parts. The first track is called The Simple Way (Part 1) and then continues into four more parts. Each one of the tracks displays a sense of drone within it set to samples of movies, with the occasional acoustic sounds. It necessarily doesn't play out bad, but, in comparison to the first half, this one just does not hit the same mark, and leaves a little more to be wanted.
So, what it boils down to is two solid artists doing what they do best. While I may not have enjoyed the second half as much as the first, it was still solid and I would listen to it again. This is a pretty good release, and they even have it available in LP format, which is decent for the collector. So, check this release out if you're into ambient and experimental projects; you are not to be disappointed with it."

(Brutal Resonance, October 2013)

_
"Une année de plus à vivre deux jours avant " l'attendu " 21 décembre 2012, de quoi redonner du baume au coeur à tout ceux qui sont rongés par le doute (et dommage pour ceux et celles qui pensaient enfin en finir).
Comme bien souvent, c'est l'artwork qui intrigue et nous accroche. Lorsque le reste est à la hauteur, c'est carton plein. Image aux contrastes forts et aux détails à peine perceptibles, entre lumière naturelle et vie plongée dans l'obscurité, deux portraits qui s'effleurent et se confondent avec délicatesse. La mise au point est faite tantôt sur l'un, tantôt sur l'autre. Ou lorsqu'ils s'accordent, sur les deux. D'un côté, l'un des français les plus prolifiques depuis le milieu des années 80, Christian Renou/Brume, associé à Stephan Hanser/Oublier et Mourir (Anemone Tube, Hartsoeker...) qui signe sa première release sous cet alter ego.
L'aurore pointe le bout de son nez, et les premiers rayons de soleil nappent le paysage. Une renaissance, un renouveau, guidé par des nappes aériennes et statiques qui réchauffent lentement l'organisme. Tout est temporaire, prédestiné à ne plus "être" un jour ou l'autre. Une notion temporelle mise en exergue, cette plante que la vie semble commencer à abandonner, courbant lentement ses tiges vers le sol, et cette lueur qui se renouvelle à cycle régulier. "A new thought is born, another will rise". À défaut d'un jeu noir/blanc catégorique, optons plutôt pour une gamme grisâtre, même sépia, pour une fois de plus rimer avec cette cover si troublante. La seconde piste joue sur ce constat, car malgré son caractère cristallin et étincelant dégagé pas les claviers, l'écoute laisse derrière elle un sentiment de mélancolie qui transperce la première partie du split (première partie, j'insiste). D'une grande pudeur, les titres insinuent, ne dévoilent pas réellement. Oublier et mourir en est surement la meilleure preuve. Les variations harmoniques sont subtiles, épongées par des nappes légères et discontinues. Le meilleur passage étant sur la fin, quelques notes sucrées viennent s'émanciper à travers le brouillard. Creshendo émotionnel, final hallucinant d'un raffinement exceptionnel, qui débouche sur le titre éponyme.
Cette fois, les deux hommes sont réunis. On entre alors dans une phase bien différente. Peut-être plus sensorielle, ou bien fantomatique à vrai dire. Un peu à la manière d'un Listening Mirror entre autre. Le processus va d'ailleurs s'intensifier sur le morceau suivant, particulièrement inquiétant. Cette fois, Brume est seul, et nous aussi d'ailleurs. Une voix se fait entendre, peut être la notre, car on ne sait plus vraiment. Sortie de nul part, elle vient comme nous hanter à des moment stratégiques, dans le but de maintenir cette tension qui nous scotche littéralement. Pour le coup, entre la lumière et l'ombre, je pense que l'orientation est claire et nette. The simple way s'étale sur 5 chapitres homogènes, parcourus à divers moments de rythmiques jazzy et autres expérimentations. Egalement inspiré de l'ouvrage " A year to live " de Stephen Levine qui met en tension les principes de vie et de mort, la vision du français est donc naturellement différente des premiers morceaux.
2 visions d'un même concept, 2 tueries, 1 album à ne pas manquer."

(Have Faith In Sound, December 2012)

_
"In "A Year To Live" offenbaren BRUME & OUBLIER ET MORIR eine außergewöhnliche Split-LP, deren packende Atmosphären die Intention des STEPHEN LEVINE Buches "Noch ein Jahr zu leben" perfekt vor Augen führen, die uns daran erinnern, ein höchst intensives Leben zu leben, um nicht im Todesfall etwas verpasst zu haben. Heißt, Beschäftigung mit dem Tod, um die Prioritäten im Leben zu erkennen.
"A Year To Live" erblickte das Licht der Welt über den belgischen Vorzeigeverlag SILKEN TOFU, der das experimentelle Dark Ambient Highlight als limitierte Schallplatten Edition (333 Kopien, weißes Vinyl) herausgibt, welcher Stefan Hanser (ANEMONE TUBE wie OUBLIER ET MOURIR) eine geschmackvolles Artwork kreierte, das die Endlichkeit des Lebens eindrucksvoll visualisiert.
Im Gegensatz zu dem überwiegend plakativen Mist im Dark Ambient, zelebrieren BRUME & OUBLIER ET MORIR in "A Year To Live" gehobenen Anspruch (und nicht nur in puncto Thematik), der defacto zum Nachdenken über das eigene Leben beiträgt. Wer geistig anspruchsvolle Themen favorisiert, erfährt in dieser Split-LP ein großes Licht, das aufgrund der stetig wachsenden Schnelllebig immer mehr an Bedeutung gewinnt. PS: Obwohl das Release in 2012 stattfand, büßt "A Year To Live" aufgrund seiner Zeitlosigkeit nicht an Ausdruckskraft ein, sondern gewinnt eher im gesellschaftlichen Wandel dazu!
Wo STEFAN HANSER mit seinem Hauptprojekt ANEMONE TUBE brutalen (Death-) Industrial kredenzt, wartet OUBLIER ET MOURIR (auf der A-Seite) mit einem meditativen Dark Ambient Sound auf, welcher teilweise in popige Gefilde abdriftet. Insgesamt eine äußerst intensive Vorstellung, die von Anfang bis Ende vollends Gefangen nimmt (und irgendwie auch berauscht!).
CHRISTIAN RENOU, seines Zeichens der kreative Kopf hinter BRUME, kredenzt auf der B-Seite eine beeindruckende Mischung aus Dark Ambient, Noise, Jazz & Musique Concréte, welche Soundtrack wie Mantra zugleich ergeben, das den besonderen Reiz von "The Simple Way – Parts 1 To 5" ausmacht. Gefallen mag, dass BRUME obwohl der immensen Experimentierfreude ein höchst stringentes Endergebnis erschuf, welches auch nach dem x-ten Hördurchlauf noch mitnimmt & fasziniert – Wahnsinn!

Fazit: BRUME & OUBLIER ET MORIR veröffentlichen in "A Year To Live" ein zeitloses Meisterwerk, dessen Strukturen in Gänze berühren, vereinnahmen & faszinieren – meine absolute KAUFEMPFEHLUNG! PS: In Sachen Themenalben, zählt diese kurzweilige Split-LP defacto zu den absoluten Vorzeigereleases, welche sie/ er keinesfalls missen sollte!

(Kulturterrorismus, November 2014)

_
"Leven en dood komen samen in een huwelijk dat beide kanten van de medaille evenveel op waarde schat wanneer Brume (Christian Renou) en Oublier et Mourir (Anemone Tube) samenwerken op de nieuwe gedeelde LP 'A Year to Live'.
Op 'Interference' werkten deze twee heren samen en ook nu weer wijken ze van hun gekende paden af met abstracte ambiente tonen. Lijnvoering lijkt wel haast Sol LeWittachtig centraal te staan in minimalisme en ruimtelijkheid. Geen noise hier, maar analoge synthesizers die het beeld vullen. De dood staat ons allemaal te wachten, maar tot die tijd rest ons vooral het leven in alle facetten te genieten en te vieren. Dat is wat het duo elk op een kant van het vinyl dan ook voluit doet, juist door de kunst van het weglaten.
Deze samenwerking levert met 'A Year to Live' een plaat op die zowel het hart als het hoofd beroert, want waar Anemone Tube inzet op de emotie, gaat Renou voor de meer rationele aanpak. Beide blijken te werken en hebben een impact die hoogstwaarschijnlijk langer dan levensjaar bij de kladden vat en naar de keel grijpt."

(Torpedo Muziek, Sven Schlijper, 2012)