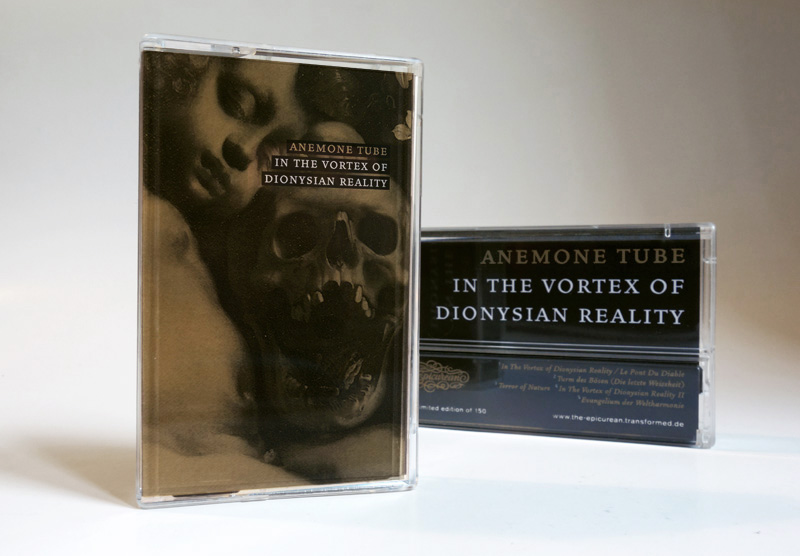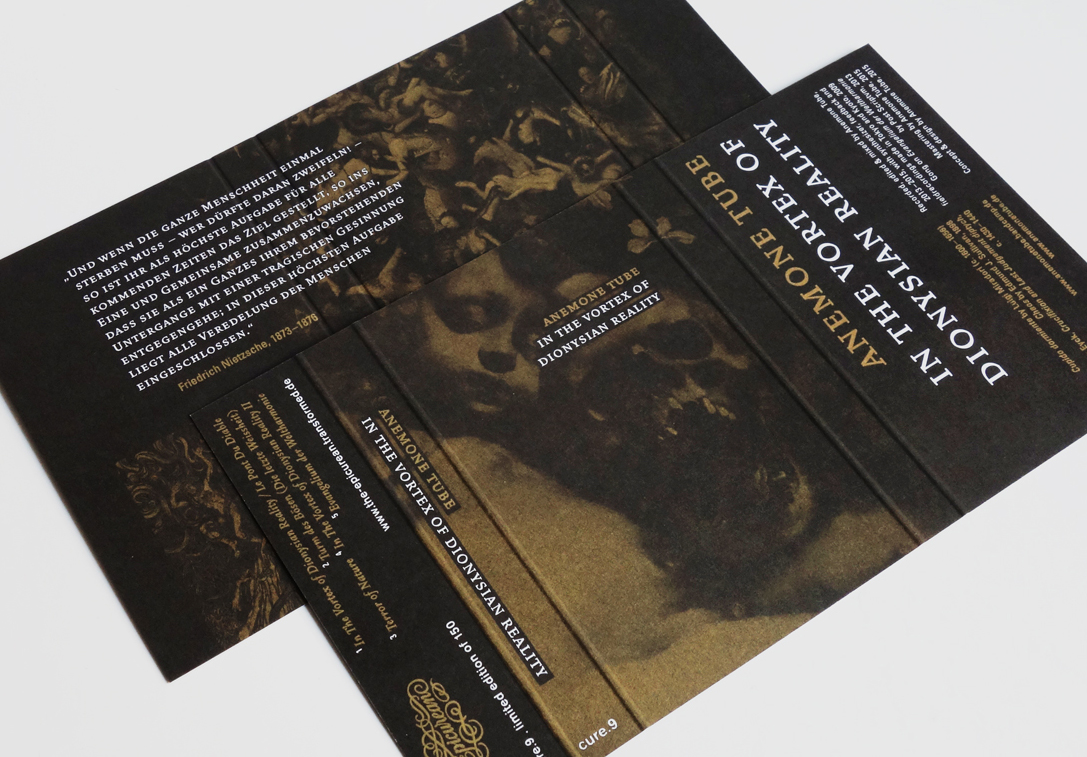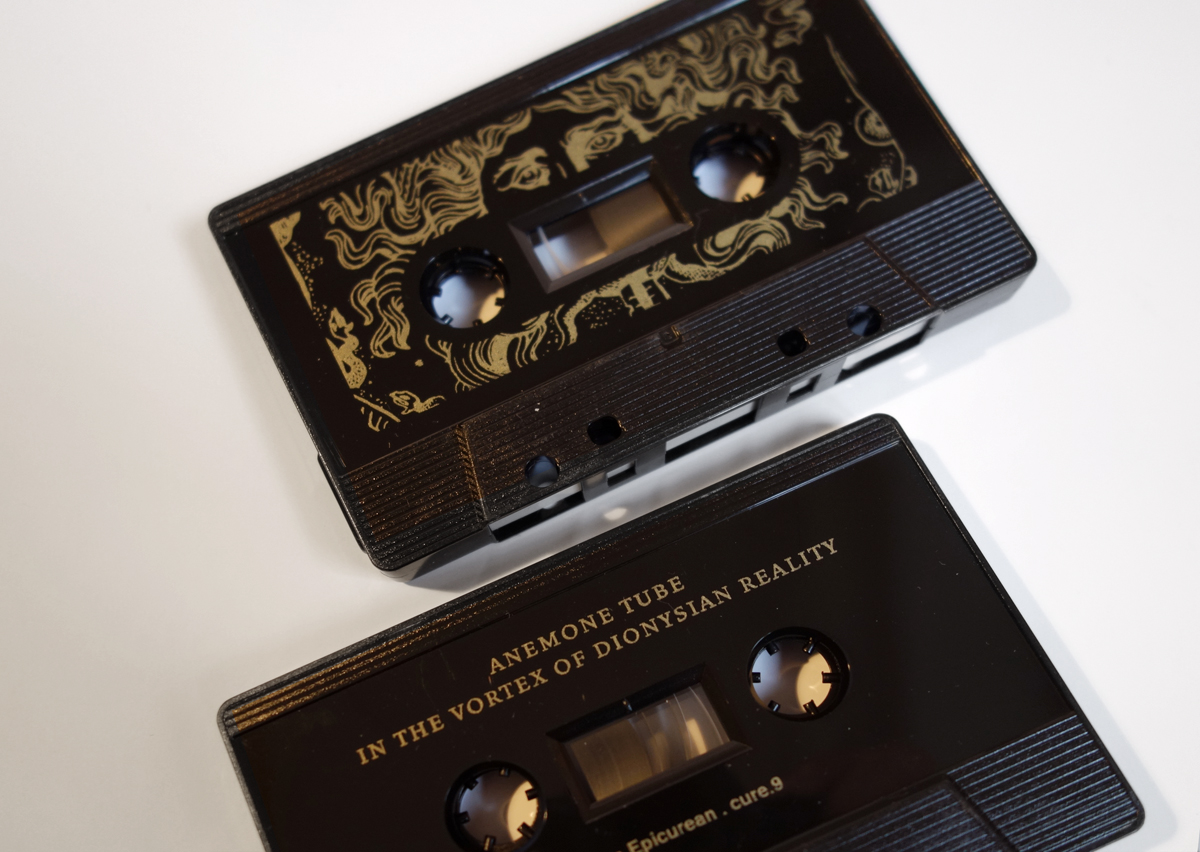 –
The Epicurean . cure.9
Format: C-41 cassette & file download
Release date: 21. October 2015
Artwork, typography and design: The Epicurean
Playtime: 19:49 min (repeats on both sides)

the-epicurean.transformed.de

Tracklist:

1 In The Vortex of Dionysian Reality I - Le Pont Du Diable
2 Turm des Bösen (Die letzte Weisheit)
3 Terror Of Nature
4 In The Vortex of Dionysian Reality II
5 Evangelium Der Weltharmonie



_
PRESS TEXT

Extending the musical content and conceptual notions of the "Suicide Series" and the forthcoming "Golden Temple" album (early 2016, Raubbau), The Epciurean is delighted to offer an EP with brand new material, featuring the helping hands of Russian dark ambient artist Post Scriptvm on one track. Related to Nietzsche`s notion of the Wagerian music drama as a revelation of the abysmal truth about man, "In The Vortex of Dionysian Reality" allures us into the Dionysian dreamland, where tragedy reigns, in pursuit of the ultimate oneness. 
"In The Vortex of Dionysian Reality" is a musical homage to guitar solos and dreamy sci-fi death metal influences. With its washes of noise and layers of piercing feedback on a subbase of wavering synths, this is a maelstrom of sound generating a hallucinatory reality. The atmosphere oscillates between destructiveness and an aggravating frenzy, between the archaic and the sacral, serving the mythical experience of music in a realm where all other means of communication have failed and music figures as the primordial language.
Black chrome C-41 tape with golden silk-screen print. Beautiful duplex gold/black printed cover, 300g natural pape, includes download code. Limited edition of 150 copies, hand numbered.


_
REVIEWS

"From sound, concept*, and visual presentation, Anemone Tube's releases are always highly considered affairs.  Consequently 'In The Vortex Of Dionysian Reality' is far from being any sort of filler release, rather represents some of Anemone Tube's strongest work to date and yet another demonstration of Stefan Hanser's ability to create deeply evocative soundscapes built around melodious elements, sculpted field recordings and squalling feedback."
(Noise Receptor . January 2016)

"Rückmeldung nach ca. 2 jähriger Pause mit einem bemerkenswert innovativen Stück Musik: Primär feedbackbasierte Noisestücke entwickeln eine innere Harmonie, die zum Träumen einlädt - erstaunliche Melange aus energetischem Sound & luftiger Atmosphäre; file under "Post-Rock-Noise" ..."
(Nonpop . October 2015)

"Auf seinem neuen Tape zieht uns Anemone Tube kompromisslos in den Strudel einer dionysischen Welt. Man muss nicht viel über den Mythos des griechischen Wein- und Rausch-Gottes wissen, um die abgründige Natur dieses Strudels zu begreifen, denn zumindest die ersten drei Stücke der vorliegenden EP lassen an dieser keinen Zweifel: Formlos und chaotisch wird die in Sound gegossene Welt des Dionysos gezeichnet, doch manchmal auch überraschend einfach in ihrer derben, verrauschten Musikalität. Man mag die Atmosphäre der vier Tracks dunkel und zum Teil niederdrückend finden, wenn man Rausch und Sinnlichkeit zu sehr mit Frohsinn assoziiert. Doch ganz abgesehen davon, dass dies eine Frage des Blickwinkels ist, gibt es im Laufe des 21minütigen Tapes auch eine deutliche Entwicklung."
(African Paper . October 2015)

"Al twee decennia maakt Stefan Hanser als Anemone Tube sferische industriële sfeermuziek met een sterke spirituele inslag. Anemone Tube balanceert tussen onherroepelijk menselijk falen en de eeuwige zoektocht naar vervolmaking. Maar we hebben het hier niet over geluidsbehang voor boomknuffelaars, wel over dualiteit, Friedrich Nietzscheen de Godenschemering van Richard Wagner. De luxueuze gouden druk op het cassettehoesje van 'In The Vortex Of Dionysian Reality' reflecteert evenveel: een schreeuwende schedel wordt geknuffeld door een engelachtig figuurtje. Niet zomaar een hoop noise dus, maar betekenisvolle golvende synthesizer-gestuurde klanklandschappen vol gecontroleerde feedback, aangevuld met rituele elementen (een gong van Post Scriptvm), veldopnames en stemsamples. Het zal van jouw eigen geestelijke balans afhangen of je op de tonen van deze gelimiteerde cassette (150 exemplaren) zal mediteren of geterroriseerd zal wegrennen."
(Gonzo Magazine . PV . July 2016)